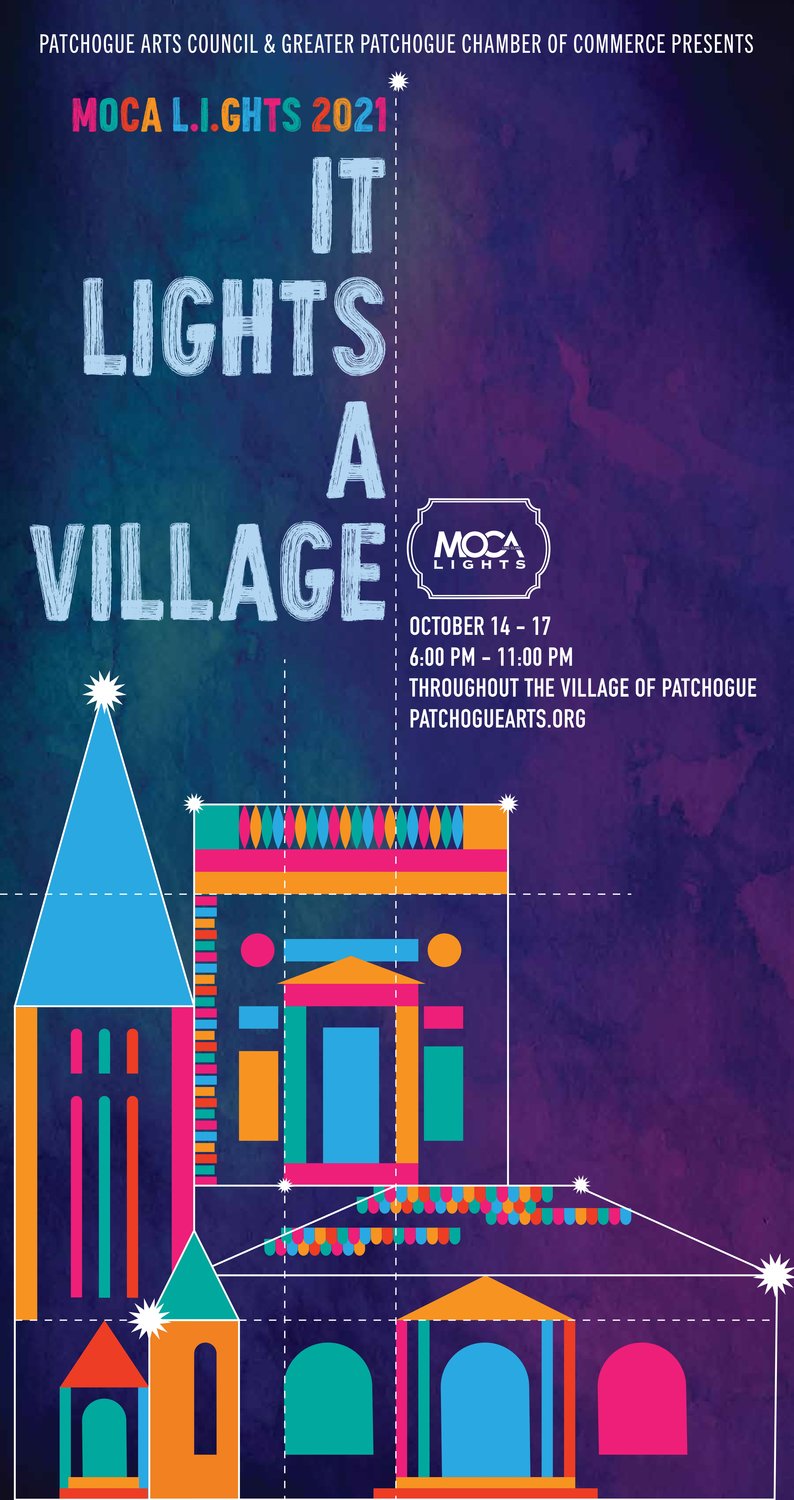 The Patchogue Arts Council is seeking $50,000 in an effort to maintain and expand the MoCA L.I.ghts event and annual festival season, including Arts On Terry (moved to September 2021), which garnered 250,000 visitors and over 50,000 views on social media during its inception last year.
In partnership with the Greater Patchogue Chamber of Commerce, PAC is looking to launch MoCA L.I.ghts as a brand-new, annual signature event in Patchogue Village. Each year, the installations will explore different themes in an effort to attract new visitors and educate the community in a variety of ways. This year, the event will also include historic imagery of Patchogue in one of the projection installations.
Once again, the backdrop will be the businesses of the downtown to create the immersive art experience. However, the cost comes from expanded innovative projected artworks utilizing specialized projection mapping technology, animation, and site-specific media works created by local, national, and international artists, which will be exhibited for free to the public on foot, by car, and online from October to December 2021.
The idea would be to expand the locations offered for the light show to more pieces of architecture in the village, including previous locations like the Carnegie Library. PAC executive director Beth Giacummo hinted at new locations such as the United Methodist Church on Church Street, bank building and possibly the courthouse. Her dream would be to have about a dozen locations, though less money raised would equate to fewer setups.
The money will mainly be spent on equipment and to pay out artists' stipends. The works of art will feature over 100 artists all contributing seconds' worth of imagery.
"We want to provide funding for our artists. What they create may only be a few minutes long, but it is extremely labor-intensive," she said. "That is part of what PAC advocates for, to pay artists for work that they do."
The equipment is high-end technology similar to the projections used at Disney World. The machines require a tech team to assemble and 24-hour security. According to Giacummo, the projectors cost about $1,000 per day to rent.
"We are proud to be working with them and supporting the next MoCA L.I.ghts in October and excited to be combining it the same weekend as our Fall Festival," executive director of the chamber of commerce, David Kennedy, said. "The Patchogue Arts Council and Beth, with her leadership, ideas and unique creations, have been a huge reason why Patchogue continues to stand out as a fun community."
The kickoff will start in October with the live art featured on the Patchogue Theatre for Performing Arts marquee and will go through December, aligning with the Patchogue Chamber's Fall Fest and Ratgirrl Vendor Circus on Terry Street along the way.
DATES TO REMEMEBER
Fall: Art on the marquee. In collaboration with the Patchogue Theatre for the Performing Arts, a rotating series of artist-created videos, gifs, animation and digitally created stills will be on display for viewing on the marquee.
Oct. 14-17: Architecture. Site-specific projections will illuminate the facades of buildings in the downtown of Patchogue including the Patchogue-Medford Carnegie library, the Main Street library and more.
Themescape Animated: A new event will be hosted at the Patchogue-Medford Library to present a new mural that will come to life with projected light and animation.
Night Visions Gallery: An open-air pop-up with projections at various locations. There will also be virtual labs to help artists learn to create animations.
BECOME A SPONSOR
PAC has provided multiple sponsorship levels including top a top-tier laser sponsor, which includes campaign recognition, projection inclusion, logo placement, advertising, social media shout-outs and more, down to firefly sponsorships for $50, which include recognition.